Descrição do programa
The Global MBA is a specially designed programme flexible enough to be studied online from anywhere in the world in conjunction with a full work schedule and family life. With no need to make frequent trips to Madrid or spend long periods away from home the course is completed over 18 months without forcing students to take a break in their career. While fundamentally an online course, integration days provide the opportunity to network with classmates and professors.
Global MBA Difference
Utilizing both the Global MBA virtual campus (with asynchronous online sessions and live interactive video ones) and integration days (for face-to-face learning and development), the Global MBA is a completely new generation of online training, emerging as the most advanced concept in modern business education.
The Global MBA is aimed at young professionals who want to pursue a quality MBA without leaving their career. Through the Global MBA, learning may be combined with work and family duties, while still allowing students to gain the same knowledge, competencies and title as they would have learnt through studying a full-time face-to-face MBA programme.
You and the Global MBA
While studying the Global MBA, you will develop a comprehensive understanding of the business world across functions and sectors, as well as your entrepreneurial potential; and heighten your analytical and problem-solving capabilities. It is YOUR MBA, and it offers you the chance to maximize your potential and your opportunities.
The combination of case studies and teamwork with innovative online teaching methods creates a new, advanced, and culturally diverse platform for training global managers, exposing you to an international network of professional contacts in your professors, corporate collaborators, and of course, your fellow students, equipping you with the up-to-date specialized skills that you will need as you embark on your career.
Programme Structure
IE Business School's Global MBA, lasting 18 months, introduces subjects progressively, accommodating students from varying academic backgrounds. This allows students who have no specific prior experience in the areas covered, to participate actively in the course. IE Business School employs the case method, as well as other techniques in its training, providing hands-on experience in real life cases.
The schedule for the video conference classes is Saturdays from 11:00 to 14:30 (Madrid time). The remaining classes are asynchronous and take place between Monday and Thursday at participant's convenience.
Integration Days
The Global MBA offers the unique opportunity of combining the most important aspects of undertaking a masters programme with integration days in a completely international environment. During this period, participants have a chance to meet each other and socialize in order to form lasting bonds that will be of use throughout their professional life; one of the great benefits of studying an MBA. While much networking is done via the video conferencing and smaller workgroups, the Global MBA also provides several opportunities throughout the year for classmates to get together.
The Global MBA Integration Days are held in cities of importance in the world of business (Mumbai, Madrid, Dubai, New York, Munich, Shanghai, Moscow and Mexico City) providing a perfect opportunity for networking with your classmates, students from concurrently running Global MBA classes, professors and alumni.
Each session lasts 2 days and typically includes a mixture of workshops, seminars from local businesspeople and ex-patriate workers who have chosen to pursue their career in the region, as well as field trips. The Integration Days are fun, informative and a great place to make friends and contacts.
The Global MBA is all about flexibility; we understand that participants might be too busy during the master's programme to attend all Integration Day sessions. For that reason, we only require attendance to a minimum of 2 sessions, although most participants decide to take part in several more.
The Programme is offered in Spanish as well.
Última atualização Abr. 2019
Bolsa de estudos Keystone
Confira as opções que nossa bolsa de estudos pode oferecer a você
Sobre a escola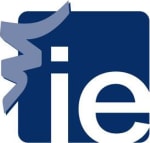 Recognised as one of the world's top business schools, IE Business School has an urban campus in Madrid and a 400-strong faculty and a student body from over 65 countries on its master, doctorate and ... Ler Mais
Recognised as one of the world's top business schools, IE Business School has an urban campus in Madrid and a 400-strong faculty and a student body from over 65 countries on its master, doctorate and executive education programmes. IE Business School students use innovative online and presential learning methods and enjoy the benefits of the IE Business School communities network, comprised of 35,000 alumni who hold management positions in 85 countries.
Ler Menos